As the reality of coming back to the office gets real, it's a great time to think about how to navigate the new hybrid work schedule that many of us now embrace post Covid.  What does a hybrid model look like?  For some, that means three days working from home and two days in the office each week.  For others, it means 100% work-from-anywhere.  The key element of a hybrid work model is "flexibility."  Agile working is now a mainstay, and when people do come into the office, they want to achieve max productivity.  This is where technology tools like Zoom Rooms will be a key component of assisting the flexible work environment.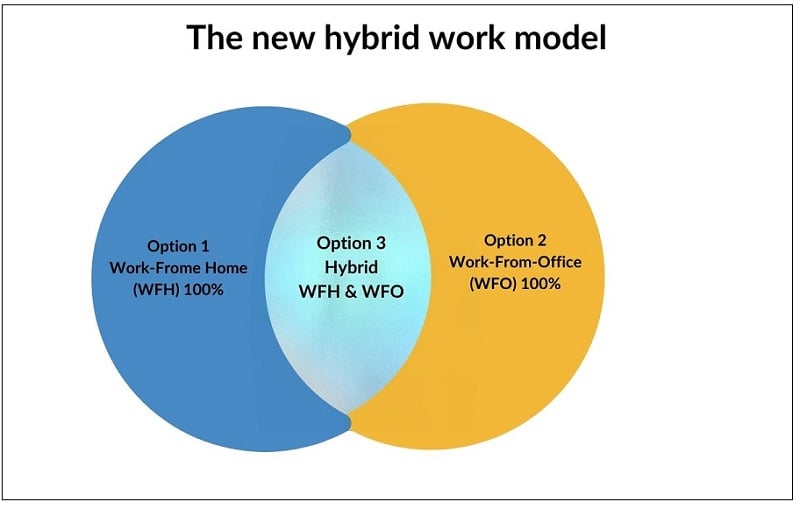 Meeting rooms will start to matter again
For many companies, hybrid teams and a distributed workforce has become commonplace, but there will always be a need for people to come together.  Connecting with colleagues face-to-face is priceless when it comes to building a team dynamic. Access to meeting space that is set-up for collaborative work can assist with productivity and team dynamics during in-person meetups.
The number of times a remote team is able to meet in-person is really a question of geography.  Depending on the size of your team and how spread out everyone is, 100% in-person attendance may not be practical.  Video conferencing tools like Zoom Rooms help level the playing field between those who can attend in-person and those who need to connect remotely because of features like HD cameras, large flat screen displays, built-in microphones, and group sharing of multiple desktops simultaneously. This year, Zoom also plans to enhance its interactive whiteboard features with more tech across mobile and desktop with things like infinite canvas, persistent whiteboard, snapshots, and templates.  A Zoom Room essentially levels-up your meeting into an enhanced video conferencing experience which offers more effective collaboration for your distributed team.  
What kind of meetings can you have in a Zoom Room?
As a remote/hybrid worker who is part of a distributed team, it's easy to think that in-person or face-to-face meetings via video conferencing are only necessary to troubleshoot problems or tackle challenges, but there are many reasons to bring your team together.
Launching a new project
Starting something new?  Laying the groundwork for a new project is a great opportunity to bring your hybrid team together either in-person, or a mix of those who can attend physically with individuals who need to connect virtually.  Using a Zoom Room to discuss expectations and set initial action items is a good way to get the team excited about working on something new.
Brai
nstorm sesh
We have all become accustomed to coming up with ideas on our own, or with one other person via chat or email, but if you want to brainstorm as a team, it's much easier to do face-to-face.  People feed off each other and oftentimes one person's small suggestion can spawn a slew of creative and innovative ideas from the rest of the group.  You can leverage Zoom Rooms whiteboard features to collaborate as a team.  
Connect on a personal level
Who ever said that a meeting has to be all about work?  Making a commitment to come together as a team, even if it's only once or twice a year, is a great way for remote/hybrid workers to connect on a personal level.  Strong social connections in the workplace make people happier and physically healthier, which translates into work performance. This is especially important if you have someone new on the team that hasn't had a chance to meet everyone in-person.  Setting aside time for teams to connect on a personal level can also help with retention and provide better recruitment outcomes in the long-term.
Need a spot to bring your hybrid/remote team together?  Check out our locations that offer Zoom Rooms.