Pacific Workplaces All Access Pass
For just $269/month, access any available private office or meeting room throughout the Pacific Workplaces portfolio – that's 16 locations!  Good for our work-from-home (WFH) professionals transitioning to a flexible hybrid work schedule, or simply need a break from the home office.  Spaces must be reserved in advance through our easy online booking system.
Choose a location below to get started
To sign-up for the All Access Pass, you must choose a primary location below to complete the checkout process.  You will receive access to all Pacific Workplaces locations once set-up in our booking portal allowing you the flexibility to work where you want, when you want.
BAKERSFIELD
1430 Truxtun Ave
5th Floor
Bakersfield CA 93301
BERKELEY
2081 Center Street
Berkeley CA 94704
CUPERTINO
19925 Stevens Creek Blvd.
Suite 100
Cupertino CA 95014-2358

MARIN
700 Larkspur Landing Circle
Suite 199
Larkspur, CA 94939

OAKLAND
1300 Clay Street
Suite 600
Oakland CA 94612

PLEASANT HILL
3478 Buskirk Avenue
Suite 1000
Pleasant Hill CA 94523
RENO
1 East Liberty Street
Suite 600
Reno NV 89501
ROSEVILLE
2999 Douglas Blvd.
Suite 180
Roseville, CA 95661
SACRAMENTO
CAPITOL
770 'L' Street
Suite 950
Sacramento CA 95814
SACRAMENTO GREENHAVEN
1104 Corporate Way
Sacramento CA 95831
SACRAMENTO
WATT
3626 Fair Oaks Blvd.
Suite 100
Sacramento, CA 95864
SAN FRANCISCO
201 Spear Street
Suite 1100
San Francisco CA 94105
SAN JOSE
111 North Market Street
Suite 300
San Jose CA 95113-1116
SAN MATEO
1900 South Norfolk Street
Suite 350
San Mateo CA 94403
SANTA CRUZ
101 Cooper Street
Santa Cruz CA 95060
WALNUT CREEK
1990 North California Blvd.
8th Floor
Walnut Creek CA 94596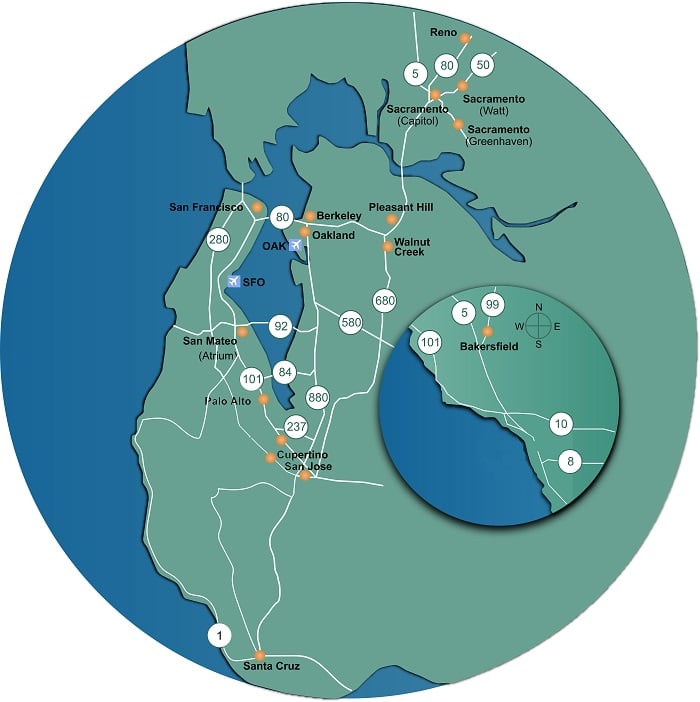 GLOBAL NETWORK
Touchdown Passes for Mobile WorkersAccess nearly 1,000 Locations Worldwide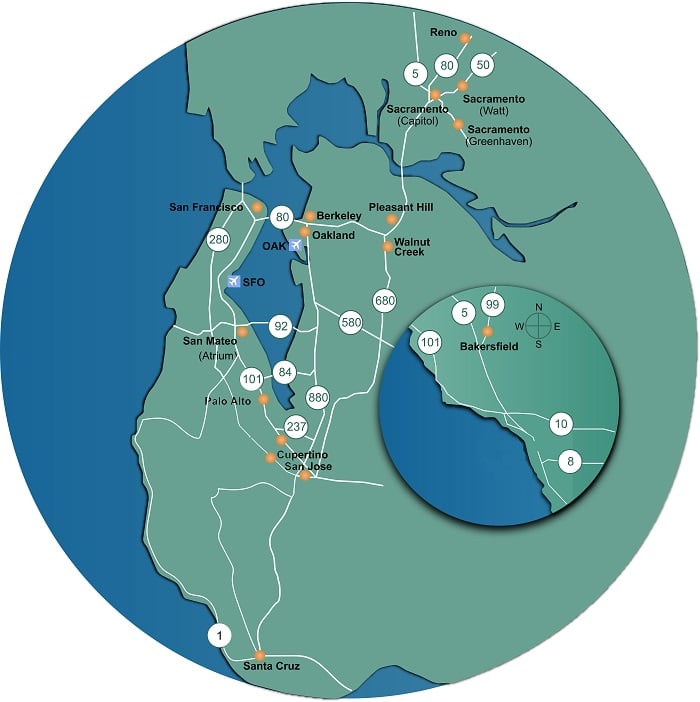 CONTACT US
Have questions?
Learn more about our All Access Pass