Our Workplace-as-a-Service™ model provides mobile workers with ubiquitous access to non-dedicated office space and conference rooms, while supporting them with a comprehensive workplace infrastructure. A Virtual Office is the most economical way to elevate your business image while maximizing productivity.
Pacific Workplaces is the Virtual Office leader in Northern California, with a strong foothold in the San Francisco Bay Area, Silicon Valley, and in the Sacramento Area. In all these locations, but also in Reno and Bakersfield, we kill the competition by simply being cheaper and better. For example, check the Regus versus Pacific Workplaces price and customer review comparison. Our virtual office services are on average 40+% less expensive, with more complete features, more flexibility, and much stronger Yelp and Google customer reviews. That matters, and that's one of the reasons over 15,000 virtual office clients have trusted us over time.
WHY CONSIDER A VIRTUAL OFFICE SOLUTION?
With our Virtual Mail Plan you can use our Business address on your collateral and establish a strong local business presence. We will receive the mail for you and notify your digital mailbox.
Through our Digital Mail Service, we can scan your mail and email it where ever you are, dispensing you from going to the office just to retrieve mail! We can shred the mail or forward it, as you direct us to do on our member portal after receiving a mail notification in your virtual mailbox.
Upgrade to an 'On-The-Go' plan and your phone line will be answered by our receptionist during business hours, with a personalized greeting. We can also screen your calls before announcing and patching them to your cell phone. Add 20 credits to your plan and you can use 20 hours of Private Day Office every month at your location of choice! You can even redeem your credits to book larger meeting rooms.  And that's only a small review of the services available to you on a pay-per-use basis.
Buy bundles of services, like V-Office and V-Office Plus, and you will have a fully functioning office with on-site receptionist and live phone answering, at a fraction of a price of a traditional space … and without the headaches of a dedicated office!
BENEFITS OF A VIRTUAL OFFICE
Significant savings compared to the high rental costs of underutilized full-time office space.

Establish a strong business presence with a professional mailing address – no P.O. Box, no residential address!

Digital Mail Services enable you to get scans of your mail remotely or pick up mail at the office, as you wish.

Meet with your clients and business associates in a day office or meeting room, with state of the art presentation equipment.
Onsite staff can provide a friendly face when we greet your visitors, receive drop-offs and provide general support.

Elevate your brand and improve your work productivity with live phone answering services. We answer calls with your company name and connect callers to you, wherever you are!

Flexibility for your growing business allowing you to add/change services on-demand to meet your needs.
BAKERSFIELD
1430 Truxtun Ave
5th Floor
Bakersfield CA 93301
BERKELEY
2081 Center Street
Berkeley CA 94704
CUPERTINO
19925 Stevens Creek Blvd
Suite 100
Cupertino CA 95014-2358

OAKLAND
1300 Clay Street
Suite 600
Oakland CA 94612
PALO ALTO
2225 E. Bayshore Road
Suite 200
Palo Alto CA 94303
PALO ALTO
COWORKING
2225 E. Bayshore Road
Suite 100
Palo Alto, CA 94303

PLEASANT HILL
3478 Buskirk Avenue
Suite 1000
Pleasant Hill CA 94523
RENO
1 East Liberty Street
Suite 600
Reno NV 89501
SACRAMENTO
CAPITOL
770 'L' Street
Suite 950
Sacramento CA 95814
SACRAMENTO
GREENHAVEN
1104 Corporate Way
Sacramento CA 95831
SACRAMENTO
WATT
8880 Cal Center Drive
Suite 400
Sacramento CA 95826
SAN FRANCISCO
201 Spear Street
Suite 1100
San Francisco CA 94105
SAN JOSE
111 North Market Street
Suite 300
San Jose CA 95113-1116
SAN JOSE
COWORKING
97 South 2nd Street
Suite 100
San Jose CA 95113
SAN MATEO
1900 South Norfolk Street
Suite 350
San Mateo CA 94403
SANTA CRUZ
101 Cooper Street
Santa Cruz CA 95060
WALNUT CREEK
1990 North California Blvd
8th Floor
Walnut Creek CA 94596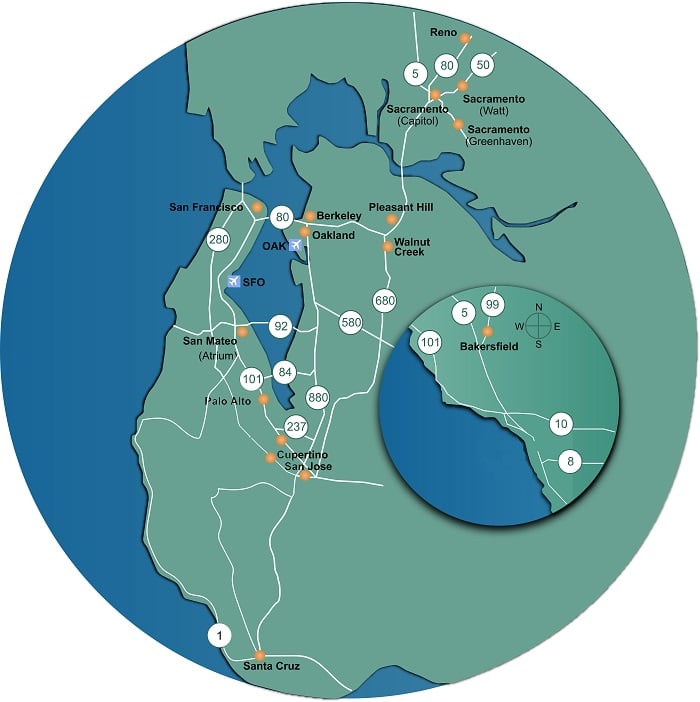 GLOBAL NETWORK
Touchdown Passes for Mobile Workers
Access 700 Locations Worldwide
Flexible month-to-month Agreements

10% discount on day offices and meeting rooms within our Global Network through our partnership with sister company CloudVO

Discounts to global conferences and trade shows specific to entrepreneurs
Discounts to business resources such as online legal library services and office supply retailers

A built-in community of startup companies and professional firms to network with and share business ideas

Fun events where you can meet other members and form social connections
LET US MAKE YOUR WORK BETTER