ON-DEMAND OFFICE SPACE
Pacific Workplaces (Pac) offers a wide range of short and long-term office space solutions, including furnished private offices and team spaces in a shared infrastructure environment. This means you only pay for the office space and the services you need, when you need them.
Request A Quote from any of our 18 Pacific Workplaces locations or check out our Global Network, which allows access to over 750 affiliated locations.
BAKERSFIELD
1430 Truxtun Ave
5th Floor
Bakersfield CA 93301
BERKELEY
2081 Center Street
Berkeley CA 94704
CUPERTINO
19925 Stevens Creek Blvd
Suite 100
Cupertino CA 95014

MARIN
700 Larkspur Landing Circle
Suite 199
Larkspur CA 94939

OAKLAND
1300 Clay Street
Suite 600
Oakland CA 94612
PALO ALTO
2225 E. Bayshore Road
Suite 200
Palo Alto CA 94303
PALO ALTO
COWORKING
2225 E. Bayshore Road
Suite 100
Palo Alto, CA 94303

PLEASANT HILL
3478 Buskirk Avenue
Suite 1000
Pleasant Hill CA 94523
RENO
1 East Liberty Street
Suite 600
Reno NV 89501
SACRAMENTO
CAPITOL
770 'L' Street
Suite 950
Sacramento CA 95814
SACRAMENTO
GREENHAVEN
1104 Corporate Way
Sacramento CA 95831
SACRAMENTO
WATT
8880 Cal Center Drive
Suite 400
Sacramento CA 95826
SAN FRANCISCO
201 Spear Street
Suite 1100
San Francisco CA 94105
SAN JOSE
111 North Market StreetSuite 300San Jose CA 95113
SAN MATEO
1900 South Norfolk Street
Suite 350
San Mateo CA 94403
SANTA CRUZ
101 Cooper Street
Santa Cruz CA 95060
WALNUT CREEK
1990 North California Blvd
8th Floor
Walnut Creek CA 94596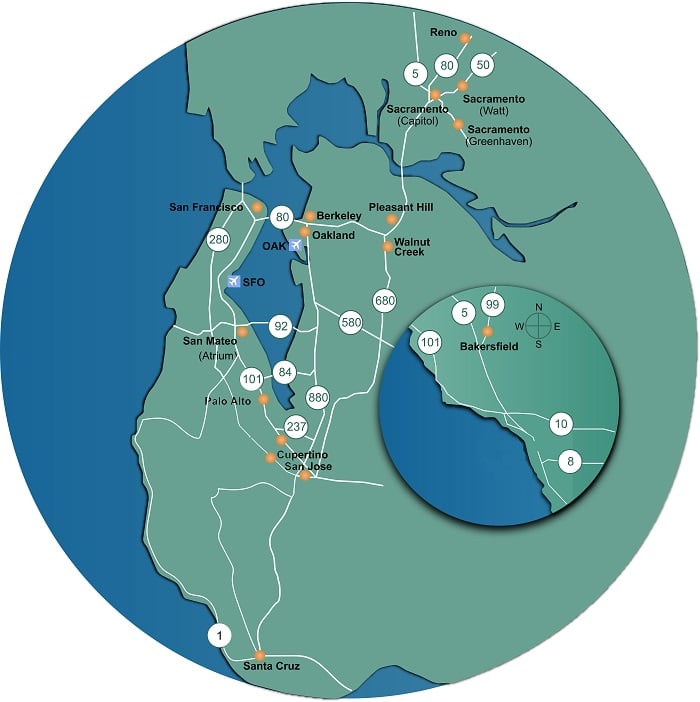 GLOBAL NETWORK
Touchdown Passes for Mobile WorkersAccess 750 Locations Worldwide
WE MAKE WORK BETTER
Each Pac location offers the following services with your office space
Enterprise-grade internet offering 100 Mbps

Phone system with voice to email, voice to text, and transcription services

Several bundled package options. Learn more about our Service Packages and pricing.
Front desk staff to greet visitors, sort mail, and manage
meeting rooms

Live answering services connecting callers to your office or wherever your are

Administrative and secretarial services available on-demand

Networked color copiers and printers
Real-time meeting room reservations powered by KUBE.

Flat screen displays , conference phones, electronic white boards and AppleTV
Network and Desktop Support

Private VPN & LAN installation services

General maintenance and troubleshooting
LET US MAKE YOUR WORK BETTER