Coworking Memberships
Some (but not all) of our flexible office space locations provide open coworking areas where members can choose affordable coworking passes, or secure a dedicated desk or workstation. We also provide productivity tools such as digital mail services and live phone answering for remote workers who do a mix of coworking and working from home.  Our memberships make coworking in California and Nevada ideal for mobile freelancers and work from home employees who need a change of pace from their home office. Choose a coworking location and view our membership options.
A Safe and Healthy Coworking Space
In this Covid-19 era, we have reimagined our flexible office and coworking spaces to prevent the spread of infection. From requiring masks to be worn in all common areas, de-densification of our open coworking neighborhoods and meeting rooms so folks are 6 feet apart, installation of plexiglass panels and hand sanitizer stations, to cleaning surfaces multiple times throughout the day, we are committed to doing all we can to keep all who enter our space happy and healthy.  Read our published Health & Safety Policy for more details.
WE MAKE WORK BETTER
Other benefits with your Coworking SPACE Membership
No long term agreements. All open coworking memberships are month-to-month for ultimate flexibility

Fast and secure business-grade WiFi

Drop-in access to workspaces allowing you to work whenever you want

Access to professional meeting rooms at discounted rates

On premise networked printers, copiers and scanners

An inspiring community of smart and professional individuals to share business ideas or just chat with to breakup your work day
Friendly staff to help make connections and ensure everything runs smoothly

Lounge area with TV, fridge, vending machine, filtered water, tea and all the coffee your need

10% discount on meeting rooms and guest offices at nearly 1,000 locations within our Global Network through our partnership with sister company CloudVO

Discounts to trade shows and conferences specific to startup professionals and entrepreneurs

Fun events that allow you to meet other 'Pacmates' to form professional and personal connections
BAKERSFIELD
1430 Truxtun Ave
5th Floor
Bakersfield CA 93301
BERKELEY
2081 Center Street
Berkeley CA 94704
CUPERTINO
19925 Stevens Creek Blvd.
Suite 100
Cupertino CA 95014-2358

MARIN
700 Larkspur Landing Circle
Suite 199
Larkspur, CA 94939

OAKLAND
1300 Clay Street
Suite 600
Oakland CA 94612
PALO ALTO
2225 E. Bayshore Road
Suite 200
Palo Alto CA 94303

PLEASANT HILL
3478 Buskirk Avenue
Suite 1000
Pleasant Hill CA 94523
ROSEVILLE
2999 Douglas Blvd.
Suite 180
Roseville, CA 95661
RENO
1 East Liberty Street
Suite 600
Reno NV 89501
SACRAMENTO
CAPITOL
770 'L' Street
Suite 950
Sacramento CA 95814
SACRAMENTO
GREENHAVEN
1104 Corporate Way
Sacramento CA 95831
SACRAMENTO
WATT
3626 Fair Oaks Blvd.
Suite 100
Sacramento CA 95864
SAN FRANCISCO
201 Spear Street
Suite 1100
San Francisco CA 94105
SAN JOSE
111 North Market Street
Suite 300
San Jose CA 95113-1116
SAN MATEO
1900 South Norfolk Street
Suite 350
San Mateo CA 94403
SANTA CRUZ
101 Cooper Street
Santa Cruz CA 95060
WALNUT CREEK
1990 North California Blvd
8th Floor
Walnut Creek CA 94596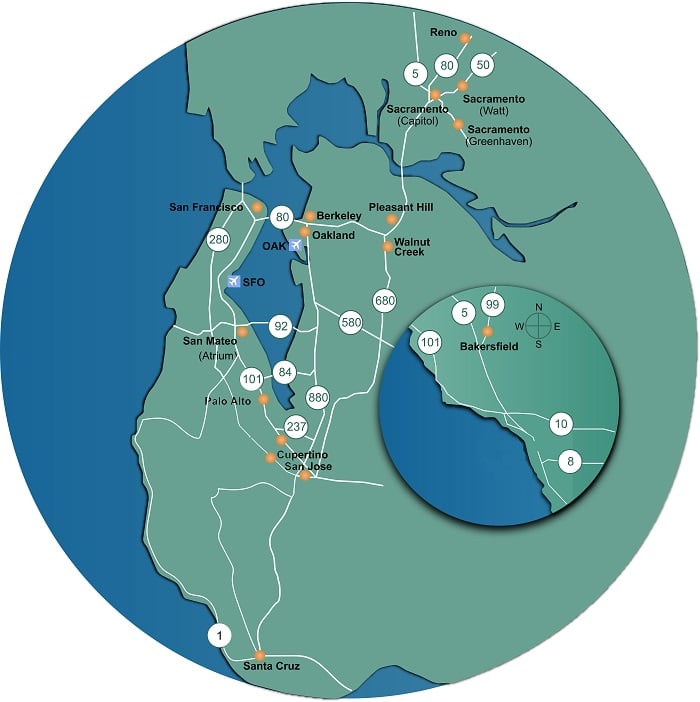 GLOBAL NETWORK
Touchdown Passes for Mobile WorkersAccess nearly 1,000 Locations Worldwide