Thanks to the plentiful technology we have come to rely on, two things have happened that may or may not be a good thing: just about anyone with a laptop and a product or service to sell can be a small business owner , AND because of said laptop, just about every small business owner thinks they are a graphic designer. How many people do you know who have tried to design their own logos, business, coupons, advertisements, etc. As a small business owner or service provider, when you are beginning to think about branding yourself or your product, there are several basic mistakes that just scream "small", and "unprofessional". If you follow the simple guidelines below, your look will be clean and classy as well as extremely cost-effective.
Improper use of fonts is an instant red flag. We've all seen bad looking menus and flyers on our doorsteps, right? . Choose two basic fonts to use and use them consistently. Choose a bolder sans-serif style and use it for all of your headings, just alter the point size to express emphasis and importance. Next, choose a clean-looking basic font for body copy. Some great "workhorse" fonts that are easy to read for body copy are: Arial, Helvetica, Palatino, Garamond, and of course Times Roman. Other common mistakes with fonts are using too much bold, all capitals or too much punctuation to make your information stand out.
As you try to determine what kind of an identity you want your business to have, color plays an important role. We all love colorful, attractive collateral pieces, but often too much color is used and a piece can just look busy and uncontrolled. As with your fonts, try to define a simple, basic color palette. About 3 colors should be the maximum you use. And these three colors should be complementary colors (using the basic color wheel). After you've chosen the first color you like, you can find many online applications that will suggest complementary colors to use. Remember, even with only three colors, you still have black and white to use as accents, as well as gradient and tinted versions of your basic color palette. Your options can still be endless, without using the whole rainbow of colors.
Often small businesses like to use clipart in their logos or all over advertisements and coupon pages. This can be a nice effect if it's done subtly and sparingly. Logos made with text only can be very effective, and often seem a little more modern. If you want to use clipart, try to avoid using cliche'd icons, such as apples for education/teaching, scissors for salons, or crosses for doctors/medical facilities, etc. Another bad use of artwork is trying to animate objects to portray your business or trade, for example a dancing vacuum cleaner for a cleaning service, or a hammer with eyes for a handyman business. Art is a great way to add visual dimension and color to your marketing pieces, but just try to stay original and simple. It is pretty easy to get some really inexpensive and unusual clipart or photographs from online providers. Just hunt around the web a bit, and you'll soon find something that states "I'm the business you need" in a unique way to all your potential customers!
Your business is as unique as you are. You take the time to make sure you are wearing matching clothes and that your hair looks clean and well-groomed. The least you can do is the same for your business – take the time to think through a concept and make sure every marketing piece you put out has a consistent visual message and represents you and your business with professionalism and class.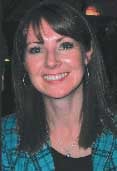 Simone J. Chapman
Owner/Designer – 345 Design
Simone is an accomplished designer, writer and editor with 20-plus years experience. Originally the founder of SC Communications, an instructional design and technical writing consulting practice, Simone designed and produced training & documentation projects for a variety of clients (Western Digital, Baxter Healthcare, Adobe Software, Del Taco, Jamba Juice, and many more local Southern-California-based firms). Simone can be reached at sc.comm {at} cox.net