Pacific Workplaces
San Francisco
201 Spear Street, Suite 1100
San Francisco, CA 94105-6164
(415) 230-5300

(415) 230-5310
SAN FRANCISCO VIRTUAL OFFICE SPACE, COWORKING SPACE & OFFICE SPACE
Office Space San Francisco, CA on Spear Street
Pacific Workplaces San Francisco (a.k.a. 'Pac') has over 40 furnished dedicated private office spaces available for individual users and small teams with flexible agreements from Month-to-month to 24 months. Our tremendous views of the Bay Bridge is a sight to behold as you land on the 11th floor, and many of our spaces provide tremendous natural light and of course, privacy. Our serviced workspace also has staff to greet your visitors, live phone answering services, meeting rooms and other services to help drive your business forward. Schedule a Visit or Get a Quote.
VIRTUAL OFFICES SAN FRANCISCO
We are experts on what mobile workers need in a workspace. Many of our members have been with us for years working on consulting projects while making new connections. It's a great place to be without paying for the full cost of an expensive office space in San Francisco. Startups who need a place to collaborate with their team also enjoy our Virtual Office San Francisco solutions which includes a highly sought after address in the vibrant South of Market neighborhood (SOMA), digital mailboxes, live call answering, and access to our meeting rooms and day offices through our online booking portal. 
San Francisco Spear Meeting Rooms
Our SOMA office has 8 conference rooms in San Francisco available for members to utilize on-demand. Embracing our "Spear Street" location, all of our conference rooms in San Francisco are named after historical weapons such as the Sword Conference Room and the Lance Mediascape Room. Our Bow & Arrow Boardroom is simply gorgeous with an unobstructed view of boats underneath the Bay Bridge. If you have clients or colleagues to impress, this is the room for your next meeting. All our meeting rooms offer privacy and have top-notch equipment like flat screen displays, AppleTV, whiteboards, and conference phones.  Our team can help you find the meeting room you need in our San Francisco location.
Coworking San Francisco
Although our San Francisco coworking location is not your traditional coworking space, we have open workstations such as our business lounge that offers fast internet and an endless supply of caffeine. Just bring your laptop or electronic device and work productively in our open yet professional coworking space. There's a good chance you'll meet other Pacmates while you work which always beats working alone.  If traditional coworking space in San Francisco is what you're in the market for, see the open coworking bay area locations throughout our portfolio.
P

a

c

San Francisco Spear and Our Global Network

For our members who need to travel for work, we can offer a network locations for you to work from through our sister company CloudVO. Through this affiliation, members can utilize CloudTouchdown passes that allow you to do just that – "Touchdown" in a day office or meeting room to get work done at any of our 750 partner locations both throughout the United States and internationally.
Our San Francisco Spear Community
Our staff and many of our members live in San Francisco and have a wealth of knowledge on the geographical area, including great local bars and restaurants. Our Community Manager also has the company-wide responsibility of running our football pool each year that donates money to the Boys and Girls Club. Please ask about how to join! We encourage our member community to get together in our lounge for organized events when they don't want to talk shop anymore. We host a meet and greet event each month so Pacmates can share a glass of wine together. Our community is comprised of tons of professionals from all aspects of business including architects, engineers, attorneys, and tech gurus. Know that you will be in a friendly environment and a cohesive workspace.
Pacific Workplaces San Francisco Spear: A Good Mix of Everything San Francisco
Near BART, Muni, ferry access and major bus lines, our location is centrally located and surrounded by the beautiful Bay Bridge and Embarcadero, and walking distance to the Ferry Building . We are still in the thick of the downtown professional environment, but mixed with a SOMA vibe of specialty cafes, cool neighborhood bars, and contemporary shops. We love to boast about our professional and private office spaces and meeting rooms which overlook the entirety of the bay including the iconic Cupid's Span sculpture.
Here are some other
P

a

c

San Francisco Spear amenities:
San Francisco business address and mail services
Peet's Coffee, Tazo Tea, and filtered water
ShoreTel VoIP technology with Unified Messaging
High speed fiber and ample internet bandwidth with Wifi throughout
Networked scanner, color printer & copier
Online legal library for solo attorneys at a discount
Starbucks located off 1st floor lobby
Shared reception services
Underground Parking located in building (Spear Street entrance)
Electronic Directory Signage available
One block of the Rincon building (great food options including Dim Sum)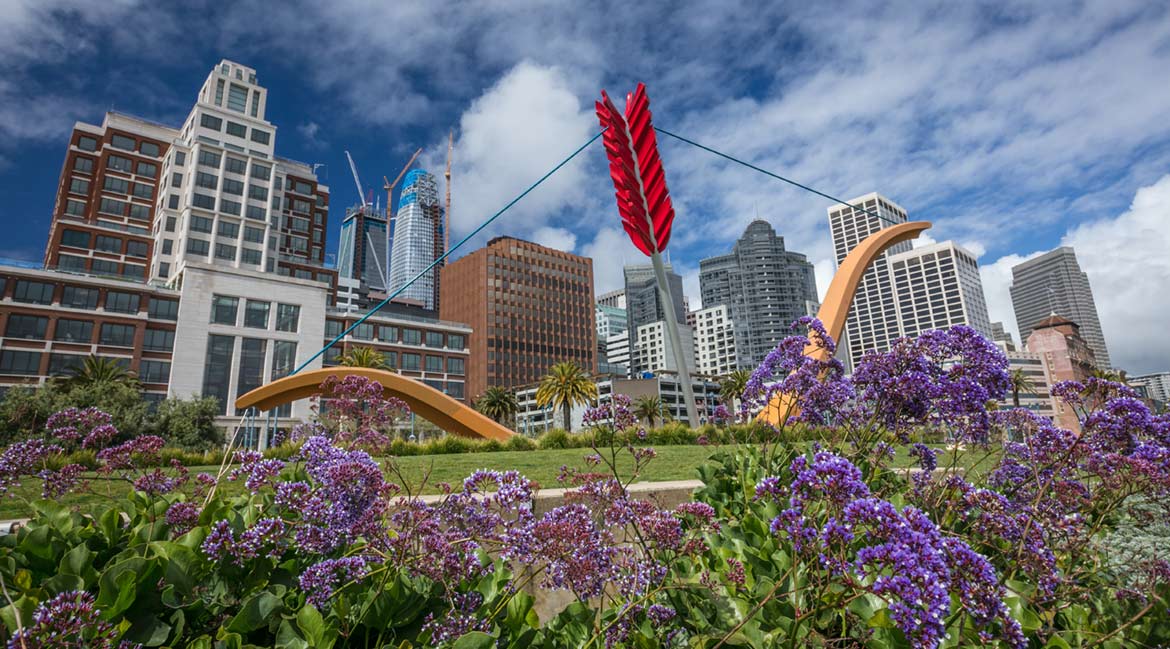 FLOORPLAN
Download Floor Plan (pdf)