Pacific Workplaces
San Francisco SOMA
201 Spear Street, Suite 1100
San Francisco, CA 94105-6164
(415) 230-5300

(415) 230-5310
SAN FRANCISCO PRIVATE OFFICE SPACE, VIRTUAL OFFICE PLANS & MEETING ROOMS
SAN FRANCISCO PRIVATE OFFICE SPACE
Pacific Workplaces has flexible office space in San Francisco in the vibrant South of Market (SOMA).  We have over 40 furnished dedicated private offices available for individual users and small teams with flexible agreements from Month-to-month to 24 months. Our views of the Bay Bridge is a sight to behold as you land on the 11th floor, and many of our spaces provide tremendous natural light and of course, privacy. Our flexible office space has staff to greet your visitors, live phone answering services, and a supportive, professional community.  If you are looking to rent a startup office space in San Francisco to drive your business forward, Schedule a Visit or Get a Quote.
VIRTUAL OFFICES SAN FRANCISCO & ALL ACCESS PASSES
Try our All Access Pass that allows you to book a vacant private office for only $269/month. Virtual Offices are also a great solution to support startups and remote workers with flexible access to part-time, safe, private offices. You can establish your virtual business address in our highly sought-after building, located in the lively South of Market neighborhood (SOMA). Digital mailboxes, live call answering, and access to our meeting rooms and private day offices are available on a subscription basis or hourly. Our customer reviews beat our competition by a wide margin and we welcome refugees from Servcorp, Regus, or WeWork who want to upgrade their level of service but not their cost.
SAN FRANCISCO VIRTUAL BUSINESS ADDRESS
Add a digital mailbox to any San Francisco Virtual Office Plan.  We notify you of mail received and can then hold, forward, scan, or shred according to your instructions.  A virtual mailbox is an efficient way to manage all your business mail while you work-from-home.  Add digital mail and consider other useful add-on services to your cart during checkout to customize your virtual office experience.
SAN FRANCISCO MEETING ROOMS
Our San Francisco office has 8 conference rooms available for members to utilize on-demand. Our Bow & Arrow Boardroom is simply gorgeous with an unobstructed view of boats underneath the Bay Bridge. If you have clients or colleagues to impress, this is the room for your next meeting. All our meeting rooms offer privacy and have top-notch equipment like flat screen displays, AppleTV, whiteboards, and conference phones.  We also offer Zoom Rooms Video Conferencing technology.  Looking to collaborate with your work from home colleagues?  Book your next meeting in a Zoom Room for a high-level video conferencing experience.
COWORKING SAN FRANCISCO
Although our San Francisco coworking location is not your traditional coworking space, we have open workstations such as our business lounge that offers fast internet and an endless supply of caffeine. Just bring your laptop or electronic device and work productively in our open yet professional coworking space. If traditional coworking space in San Francisco is what you're in the market for, check out our location in Pacific Heights.
MOBILE PASSES
Our San Francisco SOMA flex office space offers Pacific Touchdown plans as an add-on for members who want the flexibility of accessing multiple locations. Pacific Workplaces locations cover the entire San Francisco Bay Area, but also Sacramento, Roseville, Reno, Phoenix, and Las Vegas. These passes provide members regional access to day offices, open coworking spaces, and meeting rooms anywhere we have a Pacific Workplaces location.
Our San Francisco Office Space Community
Our staff and many of our members live in San Francisco and have a wealth of knowledge on the geographical area, including great local bars and restaurants. We encourage our member community to get together in our lounge for organized events when they don't want to talk shop anymore. We host a meet and greet event each month so Pacmates can share a glass of wine together. Our community is comprised of tons of professionals from all aspects of business including architects, engineers, attorneys, and tech gurus. Know that you will be in a friendly environment and a cohesive workspace.
Pacific Workplaces San Francisco SOMA:
A Good Mix of Everything San Francisco
Near BART, Muni, ferry access, and major bus lines, our location is centrally located and surrounded by the beautiful Bay Bridge and Embarcadero, within walking distance to the Ferry Building . We are still in the thick of the downtown professional environment, but mixed with a SOMA vibe of specialty cafes, cool neighborhood bars, and contemporary shops. We love to boast about our professional and private office spaces and meeting rooms which overlook the entirety of the bay including the iconic Cupid's Span sculpture. More importantly, our customer reviews tell a story of superior quality of service, significantly better than our competition. The reason can be found in our foundational Value "WE CARE", which our staff (we call them Pac-mates!) live by to their core.
Here are some other
P

a

c

San Francisco SOMA amenities:
San Francisco Spear Street business address and mail services
Peet's Coffee, Tazo Tea, and filtered water in the lounge and a Starbucks store in the building
Starbucks located off the 1st-floor lobby
High-speed fiber and ample internet bandwidth with WiFi throughout
Networked scanner, color printer & copier
Shared reception services
Underground parking located in the building (Spear Street entrance)
Electronic Directory Signage available
One block of the Rincon Center (great food options including Gozu, Yank Sing, The Organic Coup)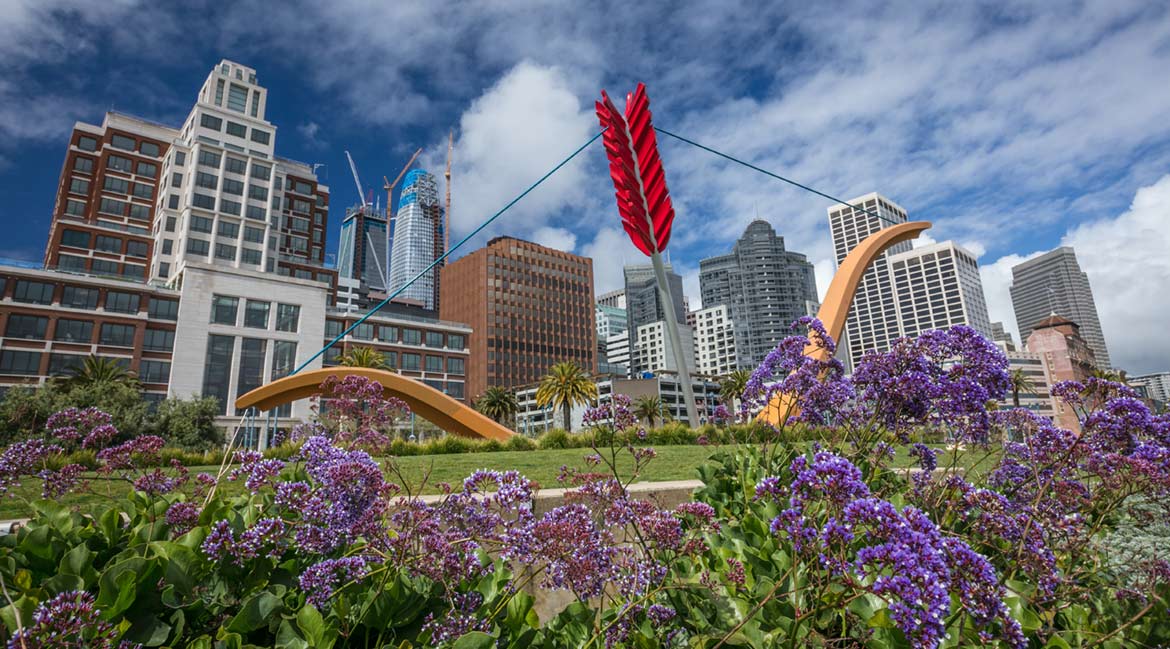 Check out our other San Francisco flex office space located in iconic Pacific Heights.
FLOORPLAN
Download Floor Plan (pdf)